The Digivisio 2030 programme's shared vision for e-learning in higher education institutions offers new tools for placing the learner at the centre of the everyday life of higher education institutions. Novia has already come a long way in the development of digital pedagogy. In line with our own strategy, we will work to strengthen digital learning and flexible education and develop work methods and services for flexible solutions.
Together with other higher education institutions, we will build the continuous and flexible learning tray and work on quality criteria for e-learning. In this way, we will ensure that all digital learning is research-based and accessible. It can be said that the goals of Digivisio 2030 go hand in hand with Novia's objectives. Our common goal is to enable more diverse learning in the future.
Learners need to be able to find their way to their studies easily
Digivisio develops AI-based guidance services for learners. This is necessary to make it easier for learners to find the continuous and flexible learning they need from the learning tray. The learner should have all their study attainments in one place and be able to monitor the progress of their studies.
But have we thought about the next step, i.e. guidance counselling, at a more personal level? We must have a well-functioning guidance counselling system in place when we get to the point in the Digivisio, where our students complete courses that are part of their degree. How can we make counselling work in the huge range of educational offerings that all Finnish higher education institutions are currently investing in?
Abundant potential in digital guidance
At Novia, we have developed a concept that we call the guidance counselling pool.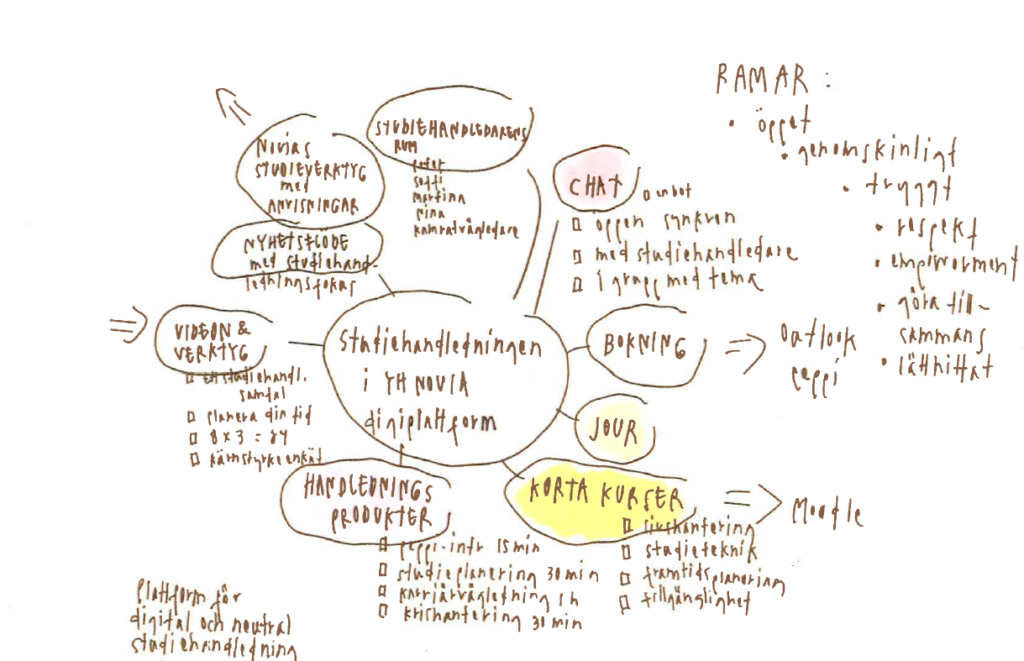 The concept is based on digital and neutral guidance counselling. All student counsellors at Novia have been gathered into a pool, and they offer guidance across department and campus boundaries.  The learner has their own guidance counsellor, but if this counsellor is busy, the learner can book an appointment for guidance from another counsellor. The guidance pool will be supplemented with a large amount of material on such things as study techniques and the use of the Peppi programme in the form of videos, short courses, etc.
The chat function on Novia's intranet is widely used for booking guidance appointments and for asking questions that do not require an entire guidance meeting. The key advantage is that one of the counsellors is always available to the learner, as they take turns overseeing the chat. The guidance is provided in the instructors' digital room, and it can be booked via the chat or Peppi. Instructors can also contact learners based on the assessment of the learner's progress in their studies. The analytics activities developed in the Digivisio 2030 programme will be of great help to us in this.
Could one-on-one guidance counselling at Finnish higher education institutions be something similar to this in the future? We are certain to find good solutions when we develop digital pedagogy together. We will need accessible, open, safe and respectful digital guidance when the continuous and flexible learning tray is introduced in Digivisio 2030.
Wilhelm af Heurlin, Digital Developer
Eva Sandberg-Kilpi, Vice President
Taina Sjöholm, Digital Pedagogy Coordinator
Novia University of Applied Sciences
This article is part of a blog series that unwraps the vision for e-learning drawn up in the Digivisio 2030 programme. Read more about the vision for e-learning.